"Walking the Path" is the name of a meditation in The Book of Forgiving by Archbishop Desmond Tutu1 and his daughter, Mpho Tutu. I took the words seriously because the authors both struggled with judging the civil conflict, violence and racial oppression of South Africa's apartheid system on a personal and massive scale.
"Walking the Path" seems like a funny title, since it's our finger that does the walking on a printed labyrinth. One "walks" by tracing the path with one's finger, as part of a meditative practice that follows the turns back and forth around a center and back out again.
What's unique about this book's labyrinth, though, is that the authors connect it with the process of forgiving – or of even considering the possibility of forgiving – after an act of violence, cruelty, or betrayal. Around the outside of the labyrinth circle they have placed the titles of what they see as the four stages of a forgiving process:
+ Telling the story
+ Naming the hurt
+ Granting forgiveness
+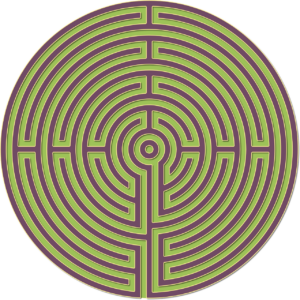 Renewing or releasing the relationship.2
But before one can compare it to forgiveness, there is the labyrinth itself. I find physically walking a human-sized labyrinth a meaningful practice. It's an ancient practice, too, dating back to long before the Middle Ages. What's satisfying about a labyrinth is that it is the opposite of a maze. Whereas a maze is designed to confuse the walker, a labyrinth's directional path eventually leads the pilgrim into the center and back out again. One can follow the path around the center as many times as one wants to, for deeper clarity of meditation. A labyrinth has an entry point, which requires the walker to choose to enter. And it has a center, where one can pause and view the entire path from a central vantage point.
Much of this journey sounds similar to dealing with whether or not to forgive. No labyrinth is a quick in-and-out affair, and no process of forgiveness is quick, either. For example, in its most common form (as in the accompanying picture), the Chartres labyrinth, just traveling into and out of the form one time means going back through each stage six times over: three times on the way in and another three times on the way out. Following the circuitous path, going back and forth, fits what it can be like to consider forgiving an act that has turned us into feeling and acting like a lifelong victim.
I find there's another similarity between a labyrinth walk and forgiveness, as well. Walking a labyrinth necessarily involves me in repeated looking back, revisiting where I once was, but each time from a different location. Every curve and turn in the path can look like I'm deceptively close to the center, and other times far away. But I am still moving forward, having to process my inner thoughts, memories, and feelings regardless of external appearances.
For example, if I'm dealing with a serious experience of suffering or abuse, the first time around the stages of forgiveness, I may focus on the question, "Do I even want to forgive that person? Another one or many times around, I may be asking myself why it could be important to forgive in this specific situation. Yet another time through it, I may be wondering if forgiveness could allow me at last to be free of the perpetrator's control over me, no longer forcing me to continue living as a victim. Within myself, could I reconcile with that person, or finally release him or her once and for all? The process can feel brutal, but it can be healing.
Thinking of this comparison, I find real hope, because of another aspect of a labyrinth. There actually is a center. Experiencing the center is different for each person who comes to it. It may be a newfound memory of the goodness of the loved one who was ripped away: a quality that we can hold onto in time of chaos. Or the sense of finding a blessing in the midst of pain. Perhaps it's a place of momentary peace. Or a sense of calm, like the eye of a storm, where we can stand our ground or kneel in thanks for some aspect of life's journey thus far.
And the center is not the end. It's the beginning of a whole different journey, whether we initially wanted that or not. The return journey naturally guides us to wind our way out to a different starting point altogether.
It still feels strange for me to do this on a finger labyrinth. But this form is much more mobile than the life-sized one: it can go wherever I go. That's a good thing, really, since almost everywhere I venture there's a need for forgiveness, both within and without. I hope you find walking the path of a finger labyrinth helpful as you consider forgiveness in this otherwise weighted-down world.
Your partner in faith,
Betsy Schwarzentraub
1 – Chair of South Africa's Truth and Reconciliation Commission, the official tribunal that judged the acts of atrocity committed during the years of South Africa's system of apartheid.
2 – Desmond Tutu and Mpho Tutu, The Book of Forgiving: The Fourfold Path for Healing Ourselves and Our World, p. 61.