Feed the Hungry, Feed Faith
Granted, Heifer Project has been a long-time "go-to" for children's ministries and Vacation Bible School.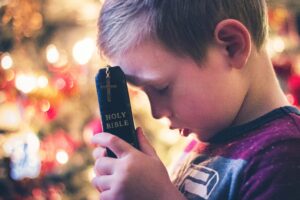 But have you looked at it lately? Now called Heifer International, it's a whole lot more than putting coins in a World Ark1 or buying a dozen baby chicks for a family overseas.
Founded back in 1944, the movement to end hunger and poverty started when Dan West, an Ohio farmer, was a Church of the Brethren relief worker during the Spanish Civil War. Working alongside Quakers and Mennonites, he gave rations of milk to hungry children. But he soon realized that a far more effective way of helping was to give "not a cup but a cow."
Heifer International does more than just train one family at a time; It's all part of sustainable development and community cohesion.
Their programs support entrepreneurs around the world from the ground up. They start with a "seed investment" of livestock or agriculture. For example, they send a pregnant cow, goat, or other native livestock breed, and secure a promise from the recipient family that they will give the first offspring to another family in their area. The agreement includes mentoring participants as they build their businesses and ultimately gain access to supply chains and markets. As a result, the participants' community grows stronger and a next generation of farmers, ranchers, and female business owners is trained.
Still, I keep coming back to the plants and animals I can support for Heifer to send. For example, I could give garden seeds, or could:
• Provide a treadle irrigation pump, and training in water conservation and irrigation techniques,
• Give water for life by bringing water to an entire community, or
• Teach family farm care to a family, sharing best farming practices, conservation, marketing goods, and more.
Who knew giving could care for the earth, be family-to-family, and have such a lasting effect on others?
There are plenty of projects to support, beginning with work in these areas:
Food Security and Nutrition – Helping farmers improve their productivity, diversify their businesses, and increase their incomes, to provide quality food for their families.
Risk mitigation and resilience – Helping people make their first connections so that they can move from relying on others, shifting from subsistence to sustainability.
Economic Development – Working with farmers and their communities to identify opportunities for living incomes and that create solutions to local challenges, to build inclusive, resilient economies.
Environmental Sustainability – Assisting farmers to integrate climate-smart agricultural practices on their farms to increase resilience and crop production.
Women's Empowerment and Social Capital – Investing in women's work around the globe as a key to ending hunger and poverty.
And yes, there are mission resources for Faith Programs and children's ministries, too. These days they include some fun gifts, such as:
• A Kid Can Change the World, featuring four weeks of colorful, age-appropriate resources to encourage the gifts of compassion and generosity to the children in your family. It includes free resources for teachers, parents, and grandparents.
• Heifer Faith Lessons – Twenty-four lessons including activities, a Bible passage, and a connection to Heifer's work to improve income and nutrition for struggling families around the world. Worship bulletin inserts and envelopes are also available.
• Living Gift Market – Host an online or in-person Living Gift Market, which can last a few hours or even a few days. Attendees can buy living gifts like goats or cows, to provide families with nutritious milk to drink, share and sell. It's fun to have an Alternative Christmas event, but you can also connect it to a wedding anniversary, a block party, or another family tradition.
These projects and more all come under the heading of "Feed the hungry, feed your faith."
Thinking about the food-and-faith connection, I'm reminded of the Macedonian Christians in Paul's day. (2 Corinthians 8:1-6) Out of sheer joy and despite their own relative poverty, they gave themselves first to Christ and then gave an outpouring of gifts to feed the residents of Jerusalem during its multi-year famine.
"Feed the hungry, feed your faith" – what a motivational phrase! Heifer is a fantastic way to help us do exactly that.
Your partner in faith,
Betsy Schwarzentraub
1 – "Fill the Ark" is a set of family devotionals over four weeks that focuses on gratitude for our blessings, paired with generous giving to our neighbors in need.