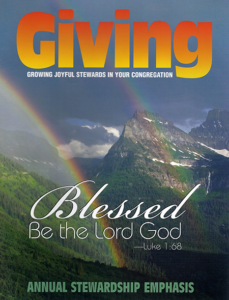 I know: theoretically you planned the fall annual stewardship emphasis back in the spring, but life often intervenes to upset even the best of plans. So now you're looking for a stewardship theme to fit your revised schedule. And wouldn't it be great if it had a creative approach and unique timing this year, when almost everyone is already thinking about Jesus?
So how about this: plan now for a financial commitment program during the season of Advent that has church members counting their blessings, reflecting on how they bless God in their lives, and responding to God's greatest gift of all, Jesus Christ? Logistically, this gives church leaders time to order materials, organize who will do what, introduce the theme, and carry out the program, all in sync with the outer world's anticipation of Christmas. And just as important, it fits theologically into the worship seasons of the Church Year.
Called "Blessed Be the Lord God," the theme centers on our common worship life, and lifts up four core biblical songs that anticipate Christ's birth: the songs of Hannah, Mary, Zechariah, and the angels in Bethlehem. Sheet music by phenomenal musician Ken Medema is included in the plan book, which is fully contained in that issue of Giving magazine. In addition, a new collection of Medema's songs is available from the Ecumenical Stewardship Center, at stewardshipresources.org, plus worship outlines, sermon ideas, group study materials, and more.
Your partner in ministry,
Betsy Schwarzentraub