Worship in Pandemic Times
We've all been hit with unprecedented challenges in the pandemic isolation these past two years. What has it been like for those who lead our common worship, seeking to hold us together as worshiping communities?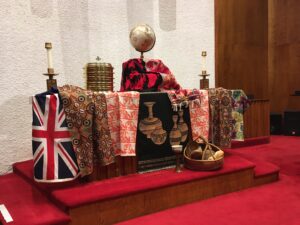 What have they learned from their experiences?
"We Are Not Alone" is an excellent article that seeks to answer these questions.1 It is in WorshipArts, a publication of the Fellowship of United Methodists in Music and Worship Arts, which helps clergy, laity, and worship artists from various denominations. As I read responses from those leaders across the U.S., I found plenty of encouragement for those of us who sit in the congregation and look for inspiration in our personal lives.2
What have you learned over these past two years?
Streamed services and recording in multiple ways.
Technology and flexibility.
Practice being a minister first and a musician second.
How to use music virtually.
Ability to pre-record music and keep a continuing online service option.
The ability to use technology that was initially foreign to me.
As a worship leader, where have you experienced hope?
The way the congregation modified methods to keep reaching out to their community.
Discovering a connection with people around the globe through their virtual presence.
Learning how to "practice compassionate presence" and "hold non-judgmental space" for people with different feelings.
What worship resources have you found helpful?
The United Methodist Hymnal, The Faith We Sing, and Worship & Song.
Two CDS of instrumental public domain hymns recorded by Dan Damon, used as background music during announcement slides.
Prepare! Worship Planner and planning resources from others, used with their permission: Sundays & Seasons (ELCA) and Call to Worship: Liturgy, Music, Preaching, and the Arts (PCUSA).
A big file of music the choir already knows.
Have there been any unexpected blessings?
Learning new necessary technology.
Finding ways to grow personally when the normal channels were blocked.
Staying flexible and mission-focused.
"The value of our network."
Your partner in faith,
Betsy Schwarzentraub
1 – "We Are Not Alone," in the Winter/Spring 2022 issue of WorshipArts, pp. 5-14.
2 – I have paraphrased replies from members of The Fellowship, and have reworded some questions to combine responses. The full interview includes questions about specific practices with music, drama, and visual arts. To join The Fellowship and receive WorshipArts, go to their website by clicking on their link in this paragraph.