Week of Prayer for Christian Unity 2023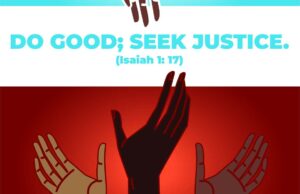 I didn't grow up celebrating a bunch of special Christian days, but I'm finding some of the basics reassuring in these uncertain times. One of those is a hundred-year-old tradition called the Week of Prayer for Christian Unity. It lasts for eight days, usually Jan. 18-25. That's this week.
Even the phrase "Christian unity" may sound strange. Certainly it does not mean merging religious structures or official denominations. But I think we all could use a sense of common ground in response to the arbitrary violence and attempted insurrections in many places around the globe these days.
Apparently that's what the folks leading the World Council of Churches thought, too, when they picked this year's theme of "Do Good; Seek Justice" (from Isaiah 1:17). The idea began with the Minnesota Council of Churches in the USA. They were deeply influenced by the fight for racial justice that came to the fore in response to George Floyd's murder in May, 2020. But clearly mass shootings, attempted insurrections, and wars are going on all around the world these days, and people of many faiths are praying to rid our world of violence and racism. The World Council of Churches and the Roman Catholic Church embraced this week's theme and daily topics for us all.
So why not pray about it together? Thanks to this Week of Prayer for Christian Unity, Christians around the globe will be praying about the following subjects and reflecting on the same Bible passages. (I added a short prayer for each day, below, if you want to use it.)
Day 1, Learning to do the right thing
Isaiah 1:12-18, Luke 10:25-36)
God of all nations, give me the courage to treat marginalized people around me as real neighbors, helping those who are oppressed and often without support. Help me to see those around me who are treated as throwaway or invisible. Guide me to do good and to seek justice for them, by Your grace. This I pray in the name and the way of Jesus. Amen.
Day 2, When justice is done…
Proverbs 21:13-15, Matthew 23:23-25
Holy God, I pray for myself and for the people in this community where I live, that we will find joy in doing justice and in being merciful toward people in need. Help me not get caught in legalism, but focus on what is most important: justice, mercy, and trust in You. Amen.

Day 3, Do justice, love mercy, walk humbly
Micah 6:6-8, Mark 10:17-31
God of all life Who chooses to come into our midst, teach me to live humbly before You. In the midst of competing camps and warring nations, teach us as a people to care for others on an equal par with caring for ourselves. This I humbly pray in Jesus' name. Amen.
Day 4, Look, the tears of the oppressed
Ecclesiastes 4:1-5, Matthew 5:1-8
Holy Spirit, blow among us, Your people, so we will both challenge evildoers in our midst and comfort those who have paid the price for others' sins. Forgive me, O God, when we have pretended that nothing was wrong and have not helped the oppressed. I pray this in Jesus' name and way. Amen.
Day 5, Singing the Lord's song as strangers in the land
Psalm 137:1-4, Luke 23::27-31
Creator God, You are the Singer of hope and of harmony for all Your creatures and for humankind. We long to sing with You. Give us the notes and help us to sing Your song with one another, by Your grace. Amen.

Day 6, Just as you did it to one of the least of these . . .you did it to me
Ezekiel 34:15-20; Matthew 25:31-40
God of healing and wholeness, I open my soul to receive Your Spirit. Shape me to participate in the unity in which You have created us all. Give us courage and care to share in Your work on this Earth. This I pray through the power of Jesus' life, death, and Resurrection. Amen.
Day 7, "What is now does not have to be"
Job 5:11-16; Luke 1:46-55
Great, merciful God, I pray to align my heart with Yours on this day, to reach out beyond the divisions we human beings have built or have allowed to stand between us. "Grant us the gift of being grounded in Your loving Spirit as we work together to eradicate all forms of oppression and injustice."1 This I pray through the grace You give us through Jesus Christ. Amen.
Day 8, The justice that restores communion
Psalm 82: 1-4; Luke 18: 1-8
Redeemer of all things, teach us to be internally grounded in Your Spirit so we will choose to follow Your path of justice and love. I ask this through Your grace and in the unity of You, Creator, Christ, and Holy Spirit. Amen.
More materials for reflection and prayer are online from the World Council of Churches, the U.S. Conference of Catholic Bishops, and the Graymoor Ecumenical and Interreligious Institute. Together, they leave us with this challenge: "As the people of God, how are [we] called to engage in justice that unites us in our actions to love and serve all of God's family?"
Good question. I'm glad we can pray and ask for God's guidance.
Your partner in grace,
Betsy Schwarzentraub
1 – U.S. Conference of Catholic Bishops, Day 7.