A sign I see every week in our community center says, "The best place to be is together."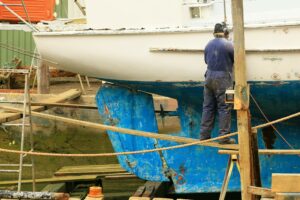 Every time I see it, I'm reminded that where we gather isn't important: it's the fact that we can gather at all.
That sense of being together was what I and millions of others have missed these past many months, when the pandemic locked us down. As countries and states now reopen to varying degrees, it's a wonderful gift to be able to gather once more with family, with friends, and with colleagues. And for those of us in Christian communities, it's a special gift to be with one another in worship – to see joyful faces when we praise God and to touch shoulders or join hands as we come together in prayer.
In my book Tossed In Time, I said that worship together can give us an anchor for the other six days of the week. But maybe a more accurate image is as the boat's rudder. An anchor stays in one place, after all, until we hoist it up and then drop it down somewhere else. But a rudder is what helps us go wherever we choose to move on the water. It changes our actual place in the big scheme of things, while revealing solid shores of hope and God's activity. And (if we're fisherfolk, for example) it can transform us from a failure-filled, dead-in-the-water, grousing group, to a fruitful and fulfilled family with true nourishment to share.
Of course, the transformation that communal worship can bring is not to be taken for granted. Just because we come sit in a pew or on a chair or in a coffee shop listening to religious music or hearing words about God doesn't make us spiritual, turn our hearts around, or change our behavior. But if we gather before the One who created us as the authentically beautiful, broken, unfinished people we are, something usually happens within us, even among us. Worship becomes a time that's charged with memory, meaning, and mission.
• Memory of when we have encountered the Mystery before, piloting our ship in deep, eternal waters.
• Meaning when we arrive as frazzled, scattered selves, but leave as a bonded, common community.
• Mission when we're reminded that we can share the reality of God and God's love for everyone, to change this messed-up world one action, one prayer at a time.
There's nothing magic about communal worship, but it's not surprising when the Spirit shows up. Just plan to come as you are and be ready to use the rudder.
Your partner in faith,
Betsy Schwarzentraub