Giving Thanks for Messy Relationships
Thanksgiving was a big deal in my growing-up family, since we're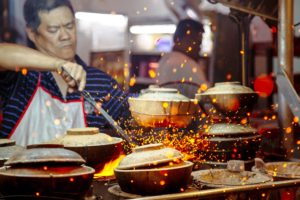 Mayflower descendants. So Mom would pull out all the stops, and we kids helped in the preparations, as well. But no matter how people approach Thanksgiving, getting ready for that holiday can involve some special recipes or once-a-year dishes we save for that one celebration. Others may not be so picky, but by the time we cook the main course and side dishes, most of us end up with countertops piled high with all of our pots and pans. So inevitably the kitchen gets messy.
Life can get messy, too, particularly our relationships over the holidays, when family members or friends stay too long, or tempers wear thin. Part of the problem is that we can want everything to be perfect – but then an uncle starts an argument about politics, a sister brings up a longtime grudge, or that neighbor comes in drunk.
What can it mean to be good stewards of our relationships, especially when they get strained or emotionally draining? Romans 12:10 says to love one another with mutual affection and outdo one another in showing honor. Even if mutuality isn't possible, Philippians 4:8-9 says to focus on the positive dimensions. That doesn't mean engaging in denial. Instead – when we're healthy about it – we try to let go of our expectations of perfection, appreciate what's good about ourselves or those problematic guests, and figure out how to "speak the truth in love" to sustain and eventually deepen our long-term relationships with them.
So go ahead: allow it to be a mess! Even if events may take a surprising turn, we can acknowledge our relationships are imperfect to begin with. Everything doesn't have to go as planned. But we can help our relationships be as great as that special food: unique and creative, and a tasty reminder of God's amazing love.
Your partner in ministry,
Betsy Schwarzentraub