From Outreach to Engagement
I hadn't thought about it before, but the traditional church term "outreach" can connote an old-school view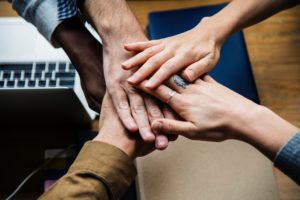 of "us versus them" mission. If delivered or heard in the wrong way, it implies that givers have all that is worth giving, and receivers have nothing to contribute to the equation. It's as if we do outreach to a generalized community or world around us, and either they "come in" (to church) or they don't. So I was thrilled when Junius Dotson, Executive Secretary of the United Methodist General Board of Discipleship Ministries, recommended a different approach and the word engagement instead.
Each congregation can engage in mission in its own way. For example, members of University United Methodist Church in Austin, Texas are personally connected in their mission giving. They host a micro-lending program that benefits the greater Austin neighborhood, have a local church Economic Justice Committee, and link with three Partners for Justice, including Interfaith Action of Central Texas. They also provide knitted and crocheted items to the neo-natal departments of three local hospitals through their Preemie Ministry, hold an Alternative Gift Market before holidays, and provide more than 200 brunch meals to homeless guests in their Open Door ministry every Saturday.
Another church with a heart for engagement is Travis Park Church in San Antonio, Texas. In addition to participating in several national mission bodies, they serve homeless and marginalized neighbors through Corazon Ministries, not only with hot meals four times per week – that's more than 25,000 hot meals per year – but also with showers; clothing; hygiene items; access to primary medical care, optometry and dermatology care; barber haircuts; art therapy; recovery and prayer groups; and Bible study. In addition, they help support Deborah's House Ministry, a safe, sober home with spiritual mentoring for women in ongoing recovery from addiction.
Dotson's book, Developing an Intentional Discipleship System, says that healthy engagement has three key characteristics. The first is authentic: having greater concern and care for the world and the people around us. The second is organic: building relationships in a way that naturally takes on a life of its own. And the third is consistent: not just trying to get neighbors to attend church but having ongoing interaction to know them as persons. All three of these qualities can create outstanding engagement in ministry!
Your partner in ministry,
Betsy Schwarzentraub
See also: Engagement, Mission and Generosity