Family Activities for Lent
Of all the worship seasons in the Christian Year, the forty days of Lent, just before Easter, can be the hardest to understand, especially for young children. Adults can have a tough time with it, too. Most often it's explained as a time of confession, self-denial, and preparation for receiving Jesus' gift of his life for us all. But there are plenty of things we can do as families to remind ourselves of the lessons this season can teach us.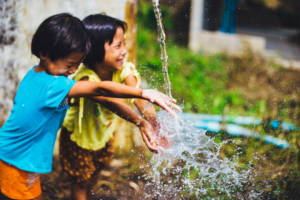 Sometimes the simplest activities teach the strongest lesson and plant it deep in our hearts. As a family does something together, they can talk about its meaning and learn from one another. Here are some possibilities:1
1. Encourage everyone in your family to put together a personal Prayer Journal. Questions you might respond to could include:
• When have I seen God in nature or in another person's life?
• When have I felt God nudging me to do a caring act?
• Who are the people I want to pray for throughout the season of Lent?
• When have I tried to act like a better person, and what happened because of that?
• When have I talked with God, about what?
No one will read what is written, unless the writer chooses to share a selection with a particular person.
2. Another fun project is to write "I Wonder" letters to God. Give children and youth a chance to think about questions they might have about life, about Jesus, or about any other aspect of faith in God. The simpler the language, the better, as if they were – and are! – talking to their very best friend. Don't be surprised if this personal writing prompts some thoughtful conversations.
3. In Tossed In Time I suggested making pretzels2 for Lent. Pretzels were first known in Latin as bracellae, or "little arms," formed in the shape of arms folded for prayer. Another Lenten idea for the kitchen is making Pax Cakes. Pax is the Latin word for "peace." Following an English tradition from the tenth century, make small pancakes and create a simple worship service while you eat them together. Suggest each member of the family forgive someone, perhaps a family member or friend with whom they have argued. Talk about changing negative thoughts and actions into positive ones. Remind one another that when we forgive, we can find peace with that person or within ourselves.
4. Plan a service project for the season that involves everyone. It might be collecting food or clothing for the local food pantry or thrift store, planting a tree in the park, researching and giving to a worldwide mission, or gathering donations for disaster survivors.
5. Talk about acts of kindness that children or young people might do to help those around them. Consider what adults can do, as well. If you can, plan and do some of these things together as a family, then afterwards at home affirm the courage to take those actions.
6. People of all ages love outdoor activities. Anticipate the Easter season by making a butterfly kite. Talk about the amazing process of transformation that caterpillars go through to become butterflies, and how those successive, unexpected changes bring an entirely new life. For a fascinating example, look at the Monarch butterfly's multiple stages. Talk about Jesus' death and how his death makes it possible for us to go through death to an entirely different, new, and eternal life.
7. Members of the Greek Orthodox Church have a tradition of Passing the Light, called Phos, meaning "light." After the first worship service in Lent, one person takes a light from the sanctuary to their home for the day. That evening they pass the light to another family, the next day it goes on to another, and so on for the entire length of Lent. The light stands for the Light of Christ (John 8:12), so if you run out of families, send it around again. The last family brings it to serve as the Christ Candle for worship together on Easter Day.
8. Two traditions usually used just before Christmas can be adapted for Lent. One is to make a Lenten Tree, similar to a Jesse Tree for Advent, where you decorate a tree or a branch in your home. But instead of decorating the tree with Christmas ornaments and symbols, draw or cut out pictures of symbols that convey meanings for Lent. These pictures3 might include a towel and basin for Maundy Thursday, a chalice or cup for the Last Supper, a cross for Good Friday, or other pictures of people serving or suffering for others.
9. A Wreath for Holy Week is like an Advent wreath, but with more and differently colored candles in it. Light one pink candle for Palm Sunday and one of five purple candles for each of the following days. Have a tall, white candle in the middle to be ready to light on Easter Day and use the other 48 days of the Easter season.
10. A lot of families like to sing together. Sing a few verses of songs that relate to Lenten themes, such as:
• "All Glory, Laud, and Honor"
• "Jesus Walked This Lonesome Valley"
• "Change My Heart, O God"
• "Eat This Bread"
• "Fill My Cup, Lord"
• "Let Us Break Bread Together"
• "Were You There"
or some other song that reminds you of God's love for us through Jesus.
11. There are other ways to mark the season, as well. For example, set aside some time at the beginning or end of each day to think about God's blessings in your life. If you want to start a Gratitude Journal, write them down, so you can remember some blessings on days that seem filled with troubles.
12. Read and talk about a Bible passage each week to focus on the events of Jesus' life right before his death. For example:
o Week l – Palm Sunday: Jesus enters Jerusalem – Mark 11:1-10
o Week 2 – Wednesday: The disciples prepare for Passover – Mark 14:12-16
o Week 3 – Maundy Thursday: The Last Supper with Jesus – Mark 14:17-31
o Week 4 – Thursday night: Jesus in Gethsemane and arrested – Mark 14:36-52
o Week 5 – Thursday night: Peter's denial and Jesus on trial – Luke 22:54-71; Mark 15:1-15
o Week 6 – Good Friday: Jesus' death and burial – Mark 15:16-47.
13. Identify a broken relationship and do something to reconcile or come closer together.
14. For each week of Lent, give money or time to a community organization that helps people in need, or give personally as you meet those who are hungry or homeless.
15. Choose a book to study together as a family each week or each night throughout the season.
These ideas are just a start. Whichever activities you choose, they can help prepare your hearts for upcoming joy in Jesus' Resurrection.
Your partner in faith,
Betsy Schwarzentraub
1 – Several of these ideas come from Delia Halverson's excellent book, Children's Activities for the Christian Year.
2 – Betsy Schwarzentraub, Tossed In Time: Steering by the Christian Seasons, p. 62.
3 – You might pick symbols from Hoyt L. Hickman, Don E. Saliers, Laurence Hull Stookey, and James F. White, The New Handbook of the Christian Year, pp. 281-286.
LINKS:
Mark 15:16-47 –