Epiphany: The Light of Christ
The worship season of Epiphany begins on January 6, just after the twelve days of Christmas. In the Western world, these are the darkest days of the year, a natural time to celebrate light. The name "Epiphany" comes from the Greek verb "to bring to light" or "to cause to appear."
Light is the main symbol for Epiphany, and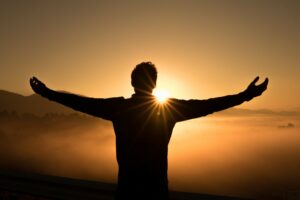 with good reason: it's when we celebrate Jesus Christ as "the Light of the world," who brings us life. (John 8:12) Through the Bible passages used in worship during these five to nine weeks, people can increasingly "see the light" about who Jesus is and how he reveals the presence and fullness of God.
The heart of this season finds expression in three key events. The first is the journey of the Magi, or wise men, who came from the East to honor Jesus. (Matthew 2:1-12) It reminds listeners that God has come in human flesh for all people. The second is Jesus' own baptism (Matthew 3:13-17), where God's Spirit gives each of us a new beginning and a community of faith. The third is when Jesus turned water into wine at a wedding, showing that his presence offers us the rich banquet of God's love, both now and in the age to come. (John 2:1-11) You can read more about these startling experiences in my book Tossed In Time.1
Worship during Epiphany offers three important subjects for reflection: experiencing God's compassion, seeing God through Jesus, and sharing God's love by what we do. Author Bobby Gross puts it this way: "We can inhabit Epiphany by responding to the twofold call of Jesus, come and see, and go and tell." Like the original disciples, we are "to be with him, and to be sent out (Mk 3:14)."2
• Compassionate Encounter – The Bible texts in the Common Lectionary for this season show how Jesus reveals God's compassion toward people through his teaching and healing. "Compassion" in Greek is a strange word. It is related to one's gut or entrails and related to the Hebrew term for "womb." It has to do with one's deep feelings, being moved to the depths of one's soul. The phrase, "to be moved with compassion," is used twelve times in the Gospels – every time exclusively referring to Jesus or his Father. "The compassion Jesus felt . . . extended to the most vulnerable part of his being,"3 expressing the hidden depths of God's tenderness and gentleness toward us all.
• "Come and See" – When Andrew and another disciple wanted to know more about Jesus, he said, "Come and see," inviting them to view firsthand what he was doing. They stayed with him a few days. Because of that time together, Andrew told his brother, Simon Peter, that Jesus is God's Anointed One (Messiah in Hebrew, Christ in Greek), whom God promised to humanity long ago. (John 1:35-42)
Through Epiphany worship today, Jesus invites us to "come and see," assessing who he is for ourselves. "Jesus befriends the poor, heals the sick, touches the 'unclean,' defends the powerless, forgives the sinful, stills a storm, exorcizes demons, makes the blind to see, and more," says Gross.4 In the Gospel of John, the story of Jesus is structured around seven such "signs" or manifestations, interspersed with Jesus' teachings about God and about himself.
• "Go and Tell" – When Jesus first sent out his twelve disciples, he pressed them to do two things: to declare the reality of God's Kingdom or Reign, and to heal those who are sick. (Luke 9:2) "Telling" is simply responding in our everyday conversations with the people around us. Of course, the best "words" don't come in verbal language, but in actions as we try to live authentically as Christians from one day to the next. As Paul wrote, we can let our lives fill up with light, without having to use words at all. (2 Corinthians 4:5-6)
In these three ways, Epiphany focuses on the light of God through Jesus, and how we can share it through our own radiant living.
There are plenty of Epiphany activities for a family to enjoy together, in addition to those listed in Tossed In Time. They include5
• Arrange the camels – Assign a portion of the story of the Magi to the number of family members in your home. Cut out the same number of construction-paper camels, then ask the participants to tell how they imagine their part of the story went as the wise men made their long journey to Jesus in Bethlehem.
• Make luminarias – Get some small, plain paper bags. On one side of each bag, turn down the top to make a cuff of two to four inches. Then draw and cut out a star on that side. Punch some small holes on the opposite side to show light. Place the bags outside leading to your home. Fill the bottom of each bag with sand or dirt and set up a battery-powered candle in it. When the candle is turned on, the light will shine through the holes to guide the travelers' way.
• Have a house blessing – Find a house blessing online and have it ready to use when you gather as a family. Recall what it must have been like for the Magi to finally arrive where the child Jesus, Marym and Joseph were staying. Then say the house blessing together, connecting your home with the home of the Holy Family.
• Create a "Gifts of Love" poster – Talk together about the three strange gifts the wise ones brought to Jesus and what they might have meant.7 Then consider two more gifts they gave Jesus: their personal presence to honor the child, and their decision to not tell Herod about him but go home secretly by another way.
• Exchange gifts – We bring gifts to one another to remember God's gift of Jesus to the world. Look online to discover different customs for gift giving in various places around the world. For example, in the Netherlands and in Mexico, family members put their gifts in a big basket. Each person leaves one of their shoes by the front door. Then, while the others are singing, eating, or playing a game, one person distributes the gifts to the correct shoe. Later, they retrieve their shoes with the gifts tucked inside.
• Celebrate in song – Use hymns to remember the themes of Epiphany by singing a few verses of them together. For example:
+ "Christ for the World We Sing"
+ "In Christ There Is No East and West"
+ "O Little Town of Bethlehem"
+ "We Three Kings"
+ "Go, Tell It on the Mountain"
Sharing some of these thoughts and activities can strengthen the warmth of Christ's light in your home throughout this season.
Your partner in faith,
Betsy Schwarzentraub
1 – Betsy Schwarzentraub, Tossed In Time: Steering by the Christian Seasons.
2 – Bobby Gross, Living the Christian Year: Time to Inhabit the Story of God, p. 88.
3 – Henri Nouwen, priest, professor, and theologian, in Eternal Seasons: A Spiritual Journey Through the Church's Year, edited by Michael Ford, p. 82.
4 – Bobby Gross, op cit., p. 88.
5 – Children's Activities for the Christian Year, by Delia Halverson, contributed several of these activity ideas. This is a wonderful resource for exploring all the Christian seasons with children.
6 – Betsy Schwarzentraub, op cit., pp. 51f.
7 – Gold: symbol of royalty and sign of wealth. Frankincense: a fragrant incense long used as a symbol for prayer. Myrrh: used to embalm bodies at death, anticipating Jesus' willing gift of his own life on the cross.