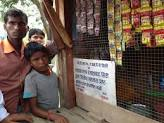 "Impact investing" was a new phrase to me until I saw a piece on YouTube. The term refers to microfinancing: loaning very small amounts of money to individuals to help solve economic and social problems.
Microfinancing is a market of about 100 billion dollars today, serving roughly 100 million people by giving loans of 50 or 100 dollars each, mostly to the poor and mostly to women. One example is the Acumen Fund, which invests in entrepreneurs in India, Pakistan and East Africa, through loans to people who make less than four dollars a day. At the time I was watching, the Acumen Fund had made 192 loans, 100 of which already had been paid back. For example, one recipient is Husk, in Behar, India. It creates energy from rice hulls. About three million dollars, total, has gone into Husk power throughout India, half of it in grants and subsidies.
The Acumen Fund is financed mostly philanthropically, and its primary goal is that of social impact. They hope to grow from their current 50 million dollars to 250 million dollars invested, in order to touch 100 million lives. Their goal is to "build this sector and build new business models to serve the poor."
Impact investing sounds like an exciting practice that can bring the best of philanthropy, of government and of business together to serve the poor. What a productive "Jesus thing" to do!
Your partner in ministry,
Betsy Schwarzentraub
See also: Mustard Seed Giving