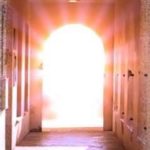 I've been thinking recently about what constitutes abundant life in our daily living. Eugene Peterson's paraphrase of Romans 5:1-7 (The Message) says that when we throw open our door to God, we discover that God has already thrown open God's door to us.
"We find ourselves standing where we always hoped we might stand – out in the wide open spaces of God's grace and glory, standing tall and shouting our praise," he says. "We can't round up enough containers to hold everything God generously pours into our lives through the Holy Spirit!"
Yes, yes! Whatever we do, all the words and songs and actions we can muster, cannot contain everything that God pours into our lives. Such overwhelming grace! But the thing is our experiences can be so raw, and this Holy Spirit thing can get tricky. Somehow it's easy to not look for the Holy Spirit, to expect that we're alone with our own strategies, dreams and disappointments, to assume that there's no one on the other side of our door.
The key is to open our door – maybe just a crack? – when we cannot see exactly what's on the other side. It's easy to say but hard to do, when we're facing an unknown opportunity or challenge. It's a risk. But then life is a risk, and we trust the One Who is in charge.
Don't we?
Your partner in ministry,
Betsy Schwarzentraub