Stewardship and Culture course
I'm excited to be teaching an online course from mid-January to mid-February, 2016 on "Stewardship and Culture: Building Contagious Generosity." Sponsored by the Ecumenical Stewardship Center and TransformingTheChurch.org, it features four audio-video presentations over four weeks with an interactive Class Forum. We'll also hold three conference calls: one on Jan. 11 (to give a week to learn how to navigate the site before the assignments begin), one on Jan. 30, and one on the final day, Feb. 13.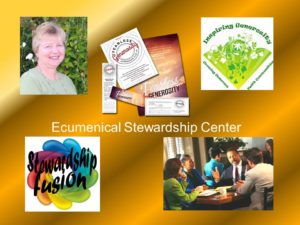 The course will explore how aspects of our North American culture influence our practice of stewardship and giving. Students will frame critical questions about consumerism and God's vision of sufficiency, recognize the impact of technology and marketing on consumerism, and begin to create an intentional Generosity Plan for their congregation. Topics include critiquing mainstream-culture assumptions about achievement and individualism, redefining themselves from consumers to stewards, shifting their focus from "the market of one" to hands-on community work, and strengthening a culture of generosity within their faith network.
The common book for our time together is Christine Roush's Swimming Upstream, but I'll reference some other outstanding resources as well, for use in church study groups and to put into an intentional Generosity Plan for the students' congregations. While the presentations, questions and assignments are set up to begin Jan. 18, all of the material is available now, to be explored on your own time. The last day to sign up is Jan. 21.
I hope you'll join me in this course, so we can participate together!
Your partner in ministry,
                                                     Betsy Schwarzentraub