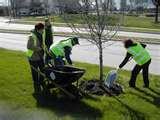 Earth Day is coming up soon this month, so now is a perfect time to decide as a congregation what you can do to encourage good stewardship of this earth. Here is a response I sent to Adam Hamilton, United Methodist minister and author, in reply to his 2015 blog about Earth Day at adamhamilton.org:
"Thank you, Adam, for highlighting Earth Day to raise awareness of the importance of being good stewards of our earth. I especially appreciated your emphasis on the daily ways we can care for the earth in the habits and patterns of our lives.
" As a U.M. minister and stewardship writer, I've seen what a great impact individuals in a congregation can have on their local community. One local church formed a group called Earthkeepers. They educate their neighbors in community events, and host free toxic clean-up days.
" As we move closer to 2017 Earth Day this month, we can get more ideas from www.earthdayinitiative.org, and decide to do something locally. Sincerely, Betsy Schwarzentraub, generousstewards.wordpress.com."
Your partner in ministry,
Betsy Schwarzentraub