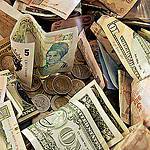 Thanks to Gary Hoag at www.generositymonk.com, 1 I learned about some key findings from "The Generosity Project" 2 sponsored by the Evangelical Council for Financial Accountability. The report is based on an online survey of 16,800 givers to non-church Christian ministries. Twenty-two percent of those were Millennials, ages eighteen through thirty-four.
I emphasize Millennials' participation because four of their findings were distinctively related to that group:
They feel hopeful about giving – Millennials are much more likely to feel hopeful after giving to a ministry for the first time – as well as invested, satisfied, confident and generous. In fact, they're twice as likely to feel generous at that time as Baby Boomers (ages 56 to 76).
They give in traditional ways – While they are more likely to give online or on social media than older generations, Millennials are as like, or more likely, to use traditional channels, as well. Their top way of giving is through monthly support.
They are inquisitive – While 90 percent of all ministry givers research the organization before giving online, 87 percent of Millennials ask other people about the organization, and 73 percent check out a third-party website, as well.
They give because of who they are – Although 33 percent of older groups give because they were asked, only 21 percent of Millennials respond because the ministry asked them. By contrast, 52 percent of Millennials say they give because of who they are, versus 48 percent of older donors.
These numbers bode well for churches and ministries seeking to reach Millennials with their visions of ministry and reports on consequent changed lives for Jesus Christ.
Your partner in ministry,
Betsy Schwarzentraub
1 – www.generositymonk.com, April 19, 2017 daily meditation
2 – www.ecfa.org/PDF/ECFA_Generosity_Report_2017_EXEC_SUMMARY.pdf
See Also: Compass Young Adult Network