Gratitude's Three Foundation Stones
Gratitude is not just a feel-good approach to life. There I sat at a Greater Good Gratitude Summit, a gathering to promote the evidence-based practices of gratitude. Dr. Robert Emmons, coordinator of the event, said gratitude is "a heightened and focused intellectual appreciation" where we focus on the abundance of our lives instead of on what we lack.
In that vast room mainly full of scientific researchers, Emmons said that gratitude has the power to heal, to energize, and to change lives. As I listened, I reflected that a faith-based attitude toward gratitude is more than enough in this life, but it's icing on the cake to know that science bears it out, as well. Citing Albert Schweitzer, Emmons stated, "Gratitude is the key to life."
So what constitutes this key? Emmons named what he calls the three foundational stones of gratitude:
• Look for the good – that's joy;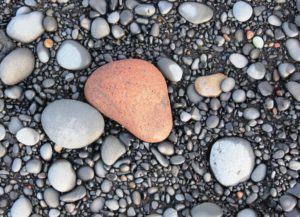 • Receive the good – that's grace; and
• Give back the good – that's love.
To this day, my heart soars with the possibilities of these three foundation stones. We can find joy in what is right around and within us, in our good memories and life-giving dreams for ourselves and our world. We can experience grace in God's unconditional love, forgiving us and working for our transformation. And we can love others and ourselves in myriad ways, out of the core of our being.
May you find these beautiful stones along the way, and hold them lovingly with each new step of gratitude on your life journey.
Your partner in ministry,
Betsy Schwarzentraub
See also: Gratitude and Resilience