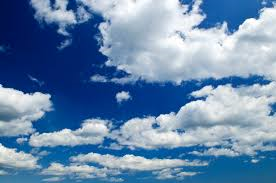 Looking up, I watch the high, bright clouds slide smoothly across e. e. cummings' "blue, true dream of sky." What beauty God makes with creation!
Gratitude gives us solid ground to stand on, but as long-armed as it is, it can never reach as far as God's grace extends. Like the clouds, I want to be a steward sharing God's presence in my way, as well.
A recent devotion* offers us a personal goal, where "every day is a blessing, every step is a prayer, and every act of mercy a statement of faith." May your stewardship witness just as brightly as these.
Your partner in ministry,
Betsy Schwarzentraub
* – Brad Gabriel, Memphis, TN, in the 2016 Upper Room Disciplines for May 13, 2016