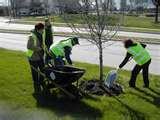 We've known for a long time that volunteering doesn't only help the people where you donate your time. But now it's been proven to benefit the volunteer in a whole slew of ways. And it's not just an attitude difference, either.
In an article called "The Generosity Effect," 1 researchers reported a number of positive outcomes associated with volunteering. They include:
• More social connections and higher self-esteem;
• A longer lifespan and better quality of life;
• Adoption of more healthy lifestyles, physical activity, and higher brain function; and
• Fewer instances of stress, pain, and hospitalization.
It's not that people volunteer in order to feel better and benefit, but it is exciting to discover a greater sense of happiness with investing yourself as a volunteer. In fact, the more people volunteer, the happier they are, compared to non-volunteers – 16% more among those who volunteer weekly.
Of course it's not really about the numbers, but about quality of life when we decide to show our care for others. I've seen people return from helping hurricane survivors and mission work crews, and they seem more alive and more hopeful than when they left. What a wonderful way to both give and receive!
Your partner in ministry,
Betsy Schwarzentraub
1 – Margaret Poe, "The Generosity Effect," in Thrivent Magazine: Helping Members Connect Faith & Finances for Good, June 2017, pp. 10f. cited on June 26, 2017 at: www.generositycoach.com