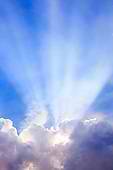 "Great work, God!" called out Dr. Don Adams, prompting the conference audience to give a standing ovation in response to God's artistry as Creator. That was many years ago, but I've never forgotten it, both because of its spontaneity and also because of its view of God as the ultimate Artist of life.
Years ago I preached on "God as Artist" at St. Paul's UMC in Vacaville, CA. With that theme, the worship team invited everyone to bring in evidence of their creativity. And what a thrill it was! Some people had made jewelry; others had written poems, drawn or painted, or taken photographs. Some worked with wood, ceramics, or recycled materials; others brought pictures of their children, or evidence of a special event they had planned. They decorated the entire worship space with the array, covering tables and leaning against walls. God is an incredible Artist, and gives us gifts to be artists, as well!
So it's not surprising that one article in the first issue of Catalyst magazine* caught my eye, about Patrisha Gill, Artist in Residence at City of Refuge UCC in Oakland, CA. "Creativity (is) evidence of the divine," she says. "I don't know if spirituality enhances creativity or vice versa, but I believe we've all been given gifts, and those gifts can be used to transform lives." Already a musician, she is now learning to create sacred space for worship through her Master of Theological Studies using visual arts, video, music, dance, photography and the spoken word. She states, "I want to take the things that I learn here, add my imagination, and ask God to blow on that creation and bless it, so it lives and breathes to bless others."
What a beautiful steward of art and life!
* – Catalyst: The Magazine of Pacific School of Religion, Spring 2016.
Your partner in ministry,
Betsy Schwarzentraub