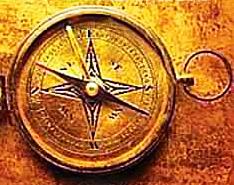 Printed maps are mostly a thing of the past. These days, many people depend on their "GPS" – Global Positioning Satellite – to get to their destination, particularly if it's to a place they've never been before. A lot of folks depend solely on their GPS for guidance anywhere.
So I was intrigued when I heard a different reference to a GPS recently while I was worshipping online at church of the Resurrection (cor.org). Pastor and preacher Adam Hamilton 1 mentioned the GPS available online as well as in COR's different on-site locations. In this case, "GPS" stands for "Grow, Pray, Study." It's a weekly guide that comments on daily Scriptures and provides a prayer to go along with the sermon topic. It also suggests a related family activity for the week, and names individual prayer requests.
Various churches may have personal study guides to follow-up on weekly worship topics, but I like the GPS metaphor. Individual reflection and prayer each day not only tell us specifically where we are in relation to God and others in this world. It also helps us move closer to where God wants us to go. As stewards of the lives God has given us, we're meant to keep moving toward our goal. (See Hebrews 12:1-2, 12-14.)
Your partner in ministry,
Betsy Schwarzentraub
1 – Hamilton is also the author of several books, including Enough: Discovering Joy Through Simplicity and Generosity, a great stewardship resource. See a review of this book under the "Resources and Reviews" category.