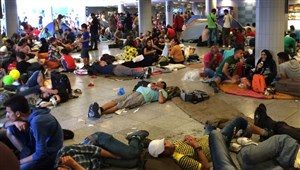 The television news has been devastating, showing thousands of refugees running for their lives, swamping train stations to leave one country for another, cradling babies and urging their children forward, in the face of forceful military or hateful crowds. It doesn't take much to imagine the misery they are leaving behind, along with all their relationships, possessions, and homelands.
So I was thrilled to read notes of hope from reporter Linda Bloom1 about United Methodists who are welcoming them and working with coalitions to help give them a new home. In Greece, the United Methodist Committee on Relief (UMCOR) is continuing to provide supplies to Macedonia and is working with GlobalMedic to provide food packets and hygiene kits to 750 families on the islands of Kos and Lesbos. In Sicily, UMCOR works with a local partner to give out emergency food vouchers. In Italy, they've contributed funds for a migrant project run by the Federation of Protestant Churches.
In Hungary, the UMC is a member of Hungarian Interchurch Aid, whose volunteers work at refugee camps and transit zones, and who, as part of the ACT Alliance, help give psychosocial services to refugee children in two temporary reception centers. They're also part of the Wesleyan Alliance in Hungary, which set up a baby-bath center at a railway station in Budapest. In Germany, many local churches have programs in place for refugees, from language classes to fellowship groups, from legal and spiritual counsel to personally going to the train stations and shelters to join crowds welcoming the refugees.
Thomas Kemper, top executive at the U.M. Board of Global Ministries, asks for prayer for a peaceful end to violence in the refugees' home countries, urges building interfaith relationships, encourages national governments to provide asylum to refugees who cannot return to their homelands, and endorses Church World Service's call to the U.S. Congress to admit 100,000 Syrian and Iraqi refugees.
It will take a lot of work by non-governmental organizations and different countries to offer homes to this wave of people washing across Europe and beyond. But as the biblical Queen Esther was challenged by her cousin Mordecai: Who knows, perhaps we have come to this place for just such a time as this.evision news has been devastating, showing trhousands of refugees running for their lives, swamping train stations to lea
Your partner in ministry,
Betsy Schwarzentraub
1 – Linda Bloom, "Coping with Europe's migration crisis," Sept. 2, 2015, and "European refugee aid goes beyond food, Sept. 10, 2015, United Methodist News Service.