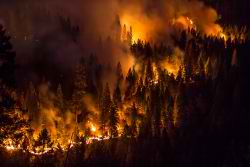 Thank You, God! Thank You, thank You. For the past two weeks I have been checking a website every few hours on the spread of a voracious fire immediately surrounding our foothills home. So far our home has been spared. But dozens of homes and scores of outbuildings have burned down, amidst the thousands of trees going up like Roman candles. The fire has burned more than 97,000 acres on three sides of us, producing days opaque with hazardous-to-breathe, smoke-filled air. More than 7,000 firefighters have come in from all over California and at least eight other states to battle against it. Even as they continue putting out the fire, now that it's up to 78 percent contained, I am breathing a sigh of relief.
Watching the Web information site (and praying a lot in between), I've had two major responses to the situation. The first is a constant spilling-over of gratitude – for all the firefighters; for the volunteers helping in evacuation centers; for the volunteers who are sheltering and feeding evacuated animals; for caring folk who have offered sanctuary for us and our beloved (and big) four-footed family. And the list goes on. . . .
My second response is a reminder of the big-picture perspective on our home and possessions. One TV commentator said recently that most people could lose half of their possessions and not even miss them. Whether that's true or not, I've been struck by some people who have lost everything – every thing they owned – who are experiencing deep shock but still have expressed gratitude that human lives were spared. This makes me think twice about my need-to-de-clutter issues at this stage of my life, and how I could voluntarily simplify my possessions and lifestyle beginning now. Instead of waiting for another fire.
Your partner in ministry,
Betsy Schwarzentraub