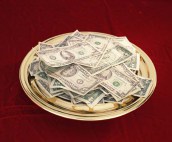 One of the sites I check regularly is Alan Wildes, who goes by the name of Generosity Coach. In four brief video clips this past month, he has given tips for the offering which resonate with what I have been teaching, as well.
Two clips deal with the importance of language, which shapes both our thinking and others' expectations. We do not "take" the offering; we "receive" it. We're not "taking" it to use in church ministries. People give to God through the church. The offering is a worshipful act where we help all of us give back to God in response to what God has done for us.
The second message about offering language relates to worship visitors and giving. Personally, it sets my teeth on edge when a church leader says, "We do not expect visitors to give." Who are we to deny someone the opportunity to participate in God's work in the world? But Wildes make a great point even before that. By calling people "visitors," we imply that they're just here to visit and then will leave. But when we call them "newcomers," we say they have recently joined us and we hope they will continue to be part of the community. What a difference that makes!
The other two offering tips speak of all-important connections. "Connect the dots," he says, by connecting our constituents' giving to people's life changes – changes for the better in who they are and how they live. And connect your church's vision to (you guessed it) people's real life changes. "Vision increases generosity," he states. Surely we can celebrate the transformation we see going on in people's lives, both inside the church and in our wider community.
Your partner in ministry,
Betsy Schwarzentraub